Benefits of GRP (Glass Reinforced Plastic)
Fibreglass is also commonly known as Glass Reinforced Plastic or GRP. This material has many advantages over other traditional materials used in the manufacture of water storage tanks. GRP is the perfect choice when it comes to installing a modern cold water storage tank. Continue reading for more information.
It is corrosion-resistant
Steel has historically been used to store water, but it is corrosive and requires galvanizing. On the other hand, GRP is corrosion-resistant and resistant to chemicals, wastewater and sewage. Because our GRP is made up of dense fibres, it won't corrode, rust or degrade over time, and the fibreglass mat helps form a resin layer that won't crack over time. Consequently, this system is highly tolerant of even the most aggressive environments and can withstand corrosion challenges encountered by industries. Maintenance-free, GRP has a longer lifespan than traditional steel.
High Strength Factor
Despite its lightweight nature, GRP has high strength. In strength tests, GRP outperforms traditional materials, including aluminium, making this material perfect for long-term use. Each of our GRP products consists of thousands of fibreglass strands encased within the high quality polyester resin. This makes the material incredibly strong yet far lighter than steel (usually just a fourth of a similar steel structure) and enables water storage tanks to outperform and outlast their traditional steel
Long Life Span
The lifespan of a one-piece GRP water storage tank is 25 years, a period far longer than that of alternative materials. During this time, the GRP will not need to be treated to maintain it, so you don't need to worry about coating or painting it.
Lightweight
It is a lightweight material that offers a range of advantages. As a result, installing roofs will require less reinforcement, as lighter weight and no heavy lifting equipment will be needed. It is possible to significantly lower installation costs and make it feasible to install a cold water storage tank in a wide range of properties without having to use cranes.
GRP is clearly the best choice compared to other materials used to manufacture water storage tanks. In every test, this lightweight and corrosion-resistant material outperforms traditional materials and will last longer. When it comes to installing a sectional water tank in your home, GRP tanks are an excellent choice.
A GRP tank is ideal for storing and distributing potable/clean drinking water. Schools, hospitals, and homes can benefit greatly from the installation of a GRP tank. It is adapted to prevent the growth of algae and bacteria, and also to keep dirt and insects away. This will result in a clean and constant supply of water. Water can be stored safely, economically, and cleanly in glass reinforced plastic tanks.
For further information on any of our products or to receive a quotation today, please contact: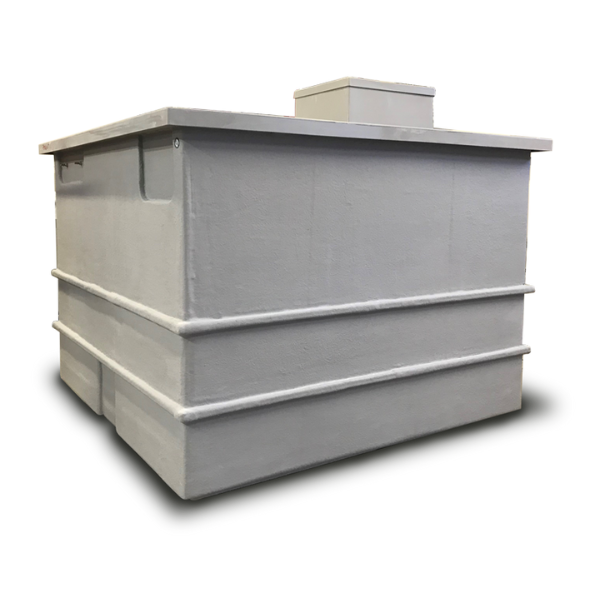 Extensive industry experience, manufacturing since 1973.
Tricel manufacture deliver & install cold water storage tanks across a wide range of industry sectors throughout Ireland & the UK. Tricel also provide import/export services for our international clients. Tricel has been Manufacturing water tanks since 1973, and are made from Glass Reinforced Plastics (GRP). This top quality material offers outstanding capabilities including long life, durability and is a cost-effective solution for water storage even in the harshest environments. Cold water storage is available for both potable and non-potable applications.
GRP Water Storage Tank Installations