Due to the dangerous and destructive nature of fire, protection systems and their components must meet stringent regulations.
Tricel fire protection tanks are trusted by businesses, municipalities and their insurers who rely on the availability of emergency water supply to a sprinkler system in the event of a fire.
Tank capacity ranges from 5m3 to 1300m3
Tricel tanks are manufactured from GRP, due to its robust properties which are excellent for longevity and durability. Tricel tanks are constructed to ensure minimal maintenance is required limiting the necessity to drain down the tank during maintenance work.
Capacity levels are determined by the following:
Hazard classifications – Usually the larger the hazard the greater volume of water required for protection
Duration of water supply
Mains refill capabilities – Refill duration limits outlined in BS EN12845, BS 9251 etc.
Holding capacity requirements – Full holding or reduced capacity. Reduced capacity may be acceptable where the main refill capabilities are sufficient to make up the water requirement balance within the "time" regulations for specific hazard classifications
Wet or dry pipe system
Range between the highest and lowest sprinkler
Sprinkler design standard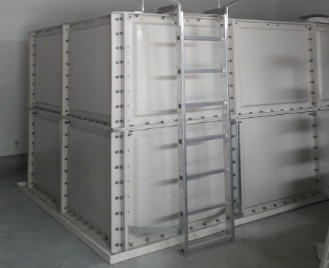 Additional extras available if required:
Tank divider (across or along) may be provided to ensure constant supply of water, while cleaning second chamber in the tank
Protective hand-railing for around the perimeter of the tank or around the perimeter of the manhole
Performance & Regulations:
To ensure optimum performance and compliance with regulations, the following ancillary items are usually fitted to our fire protection tanks:
Hydrostatic contents gauge to measure the level of water in the tank.
AB Air gap to prevent water siphoning back into the mains water supply.
Internal Ladder for safe tank access.
External aluminium ladder complete with safety cage to safely gain access to the man-way cover for maintenance purposes.
Drainage facility to completely drain down the tank for maintenance work.
Access man-way to enable testing, maintenance etc.
Side access hatch.
Vortex inhibitor eliminates air circulation through the water when large volumes of water are extracted from the tank.
Immersion heater to prevent water from freezing in the tank and pipe work.
Extensive industry experience, manufacturing since 1973.
Tricel manufacture deliver & install cold water storage tanks across a wide range of industry sectors throughout Ireland & the UK. Tricel also provide import/export services for our international clients. Tricel has been Manufacturing water tanks since 1973, and are made from Glass Reinforced Plastics (GRP). This top quality material offers outstanding capabilities including long life, durability and is a cost-effective solution for water storage even in the harshest environments. Cold water storage is available for both potable and non-potable applications.
GRP Water Storage Tank Installations