sectional tank panel sizes
Our trained technical staff are here to help and advise you, to ensure that you achieve the most economical solution on all of your water storage requirements.
Continuing reading below for details on our Sectional Panel Types and sizes. For our Capacity tables and Metric Panels, please click here. 
Format 30 Sectional Water Tanks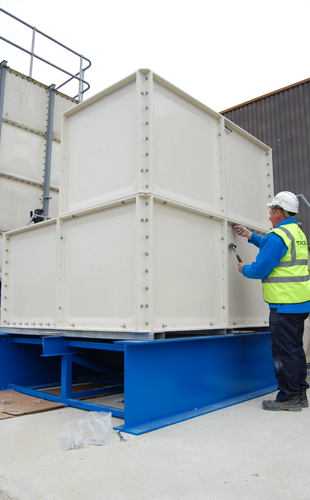 Tanks insulated and finished to Format 30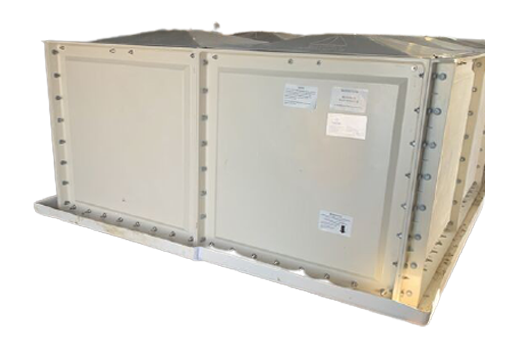 Note: This is only an example of one type of insulation skin, there are different arrangements for different types of tanks.
Pipe connections for insulated cold water storage tanks
The areas where pipe connections can be made on insulated tanks are more restricted than in standard tanks, the picture shows a recess in the insulation panel to allow for the pipe connections.
Current legislation states that hot or cold water in any premises that might be used for human consumption must be of potable quality.
In addition to tank material specifications, there are no further requirements for lid design, the screening of vents, breathers, overflows, warning tell-tale pipes and the provision of insulation which will help prevent freezing and also help keep the water as cool as practicable, ideally less than 20ºC.
For all Water Storage Queries Please contact a member of our team today!
Extensive industry experience, manufacturing since 1973.
Tricel manufacture deliver & install cold water storage tanks across a wide range of industry sectors throughout Ireland & the UK. Tricel also provide import/export services for our international clients. Tricel has been Manufacturing water tanks since 1973, and are made from Glass Reinforced Plastics (GRP). This top quality material offers outstanding capabilities including long life, durability and is a cost-effective solution for water storage even in the harshest environments. Cold water storage is available for both potable and non-potable applications.
GRP Water Storage Tank Installations