Cleaning and maintaining water storage tanks
Cleaning your water tank is essential to ensure the water inside stays clean and bacteria-free. It would be best if you clean your water tank at least once a year.
Water tanks will acquire algae, silt, and bacteria over time, all of which can be harmful if not appropriately maintained.
When you clean your tank, you should follow proper processes for draining it, cleaning the interior walls, and disinfecting the tank.
Dirty and poorly maintained water systems, old and dilapidated pipework, neglected water tanks and poorly managed cooling towers can lead to a significant deterioration in water quality standards.
Importantly, such conditions can also create ideal environments for the growth and proliferation of dangerous waterborne pathogens such as Legionella.
It can significantly increase risks to the health and safety of employees, customers, and other people, but it can also have a legal impact on your business as you may be breaking the law, exposing you and your business to possible legal action or civil prosecution.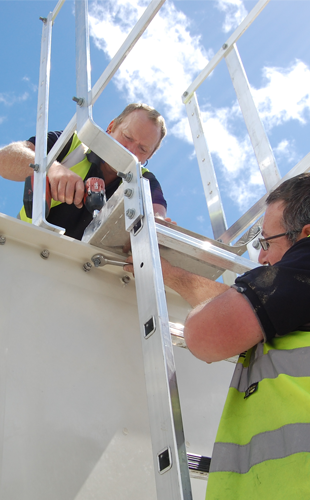 Before cleaning your water storage tank
Before carrying out cleaning on the tanks, check the water temperature must be from the ball valve and the incoming mains.
Check that the structural supports under the tank are in good condition, also check that overflows are fitted.
Check for leaks and ensure that all pipework is braced suitably. 
All internal supports should get checked for corrosion. If there is a condensation tray with the tank, ensure that it has an overflow fitted and that it is not damaged.
If there are ladders fitted to the tank, ensure that they are fastened securely to the tank. If the tank is bunded, check that it is in good condition.
It is important not to stand on internal stay bars while maintenance is being carried out.
how to clean a large water tank which cannot be emptied
The first step to cleaning your tank is to drain it.
In any situation where there is only one water storage tank in the building, Tricel offers a tank divider as a solution so that one half can be drained at a time to avoid interruption of the water supply when carrying out cleaning or maintenance.
Once half drained the tank walls should be physically cleaned removing any staining and accumulation of scale. When cleaning the inside of the tank, do not interfere with the joint sealant. Close the inlet and outlet valve to isolate the tank.
Chemical solutions are then mixed, and interior walls pressure washed with same, leaving to sit for around two hours.
After two hours thoroughly rinse the tank with clean water and refill with potable water. Once maintenance is complete, ensure that the utility hole seal is intact and securely closed.
Extensive industry experience, manufacturing since 1973.
Tricel manufacture deliver & install cold water storage tanks across a wide range of industry sectors throughout Ireland & the UK. Tricel also provide import/export services for our international clients. Tricel has been Manufacturing water tanks since 1973, and are made from Glass Reinforced Plastics (GRP). This top quality material offers outstanding capabilities including long life, durability and is a cost-effective solution for water storage even in the harshest environments. Cold water storage is available for both potable and non-potable applications.
GRP Water Storage Tank Installations